Coming March 3rd, 2023:
Exhibit Dates: Friday, March 3rd, 2023 – Friday, December 22nd, 2023
---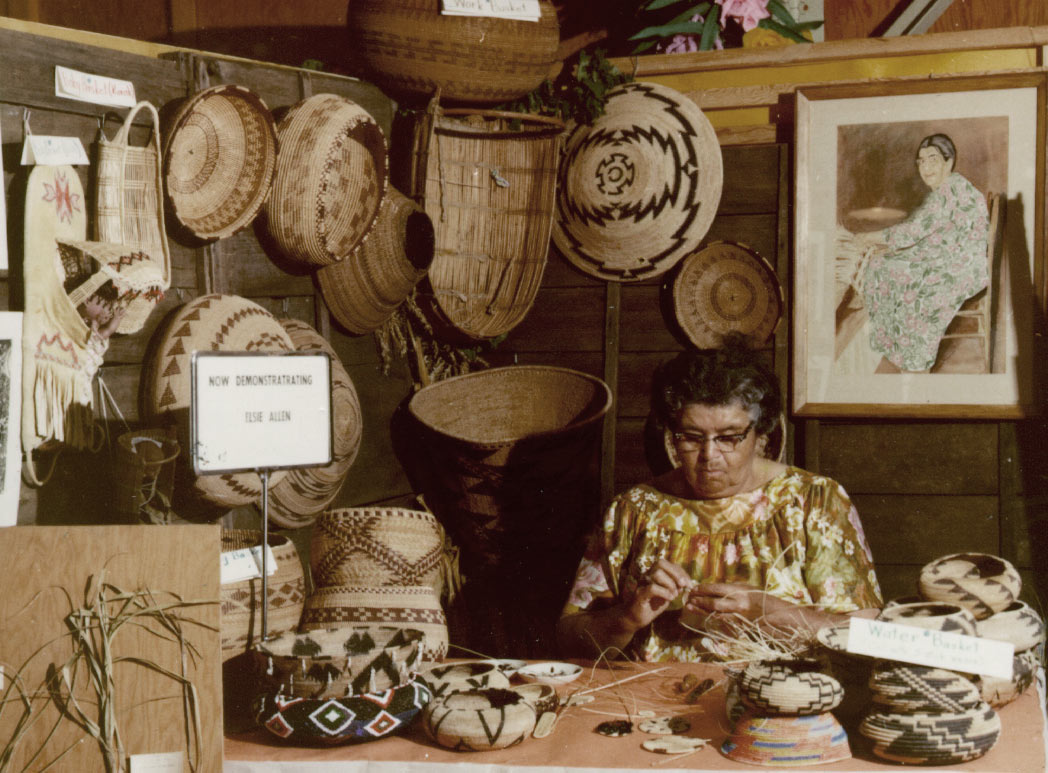 The Santa Rosa Junior College Multicultural Museum is proud to house, display, and preserve the Elsie Allen Basket Collection. This historically important collection was acquired by the Jesse Peter Museum in 2003. It is rumored that the Smithsonian Museum asked for the Basket collection but was turned down because the family wanted to keep the collection close to home.
This group of Pomo baskets "reflects a multigenerational family effort - mother to daughter to granddaughter - to collect and preserve the work of relations, friends, and unknown weavers whose baskets were somehow "special". To date, 26 of the native weavers whose baskets are in the collection have been identified, a remarkably high level of documentation." (Remember Your Relations - The Elsie Allen Baskets, Family, and Friends, by Suzanne Abel-Vidor, Dot Brovarney, and Susan Billy)
For centuries, when a Pomo woman died, her baskets were burned or buried with her. As a result, new weavers were unable to refer to their predecessor's baskets for inspiration and instruction, and the people were losing their legacy as fewer and fewer people learned basket weaving.
Elsie Comanche Allen (1899-1990), was born in Sonoma County and was a longtime resident of Ukiah in Mendocino County. She began weaving as a child, but only devoted herself to weaving and teaching full time until retirement age. It was a passion she shared with her mother, Annie Ramon Burke (1876-1962), the originator of the Allen Collection, who defied Pomo tradition by asking her daughter to promise not to destroy her baskets when she died.
Elsie took her mother's request to heart and worked tirelessly to change Pomo burial traditions and add to the basket collection, which eventually grew to 131 baskets. It is the largest collection in existence with an exceptionally high level of documentation, and it is the only Pomo Basket collection known to have been formed by a weaver. Over 90 of the baskets in the collection are documented to 26 Pomo weavers, with about 30 attributed to Elsie Allen's immediate family. The baskets in the collection date from the late 19th century to the 1980's.
This extraordinarily beautiful collection contains both functional and gift baskets, and reflects the masterful skill of some of the greatest basket weavers in the world.