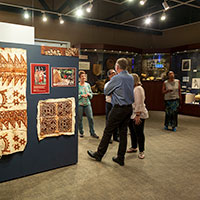 The Santa Rosa Junior College Multicultural Museum is a unique institution in that we are one of only a small handful of museums in the country that is housed in a two year college. Founded in 1939, the SRJC Multicultural Museum has over 5,000 catalogued items, and over 90% of our collection has been donated by community members.
Our holdings include the renowned Elsie Allen Pomo Basketry Collection; Southwest pottery from world famous artists such as Nampeyo, Maria Martinez, and Lucy Lewis; diverse African sculptures and masks; original serigraphs from the Northwest Coast, and original artwork from across the globe.
With only one permanent staff members and a small group of student employees and volunteers, the SRJC Multicultural Museum provides services to over 4,300 visitors per year from the Santa Rosa Junior College and the community at large on a very modest budget.
Immersive Learning
The Museum offers a unique venue for instructors to support student-centered learning.
Art students sketch Puebloan pottery, budding Anthropology students explore artifacts from indigenous societies, and Native American History students use the exhibits to deepen their understanding of Native American cultures. We draw upon our archival collection to create new exhibits to inspire curiosity and serve as a dynamic laboratory for learning.
The Museum also offers opportunities for students to work and volunteer, with immersive, behind-the-scenes experiences that can help them build their resumes while they learn about the Museum field.