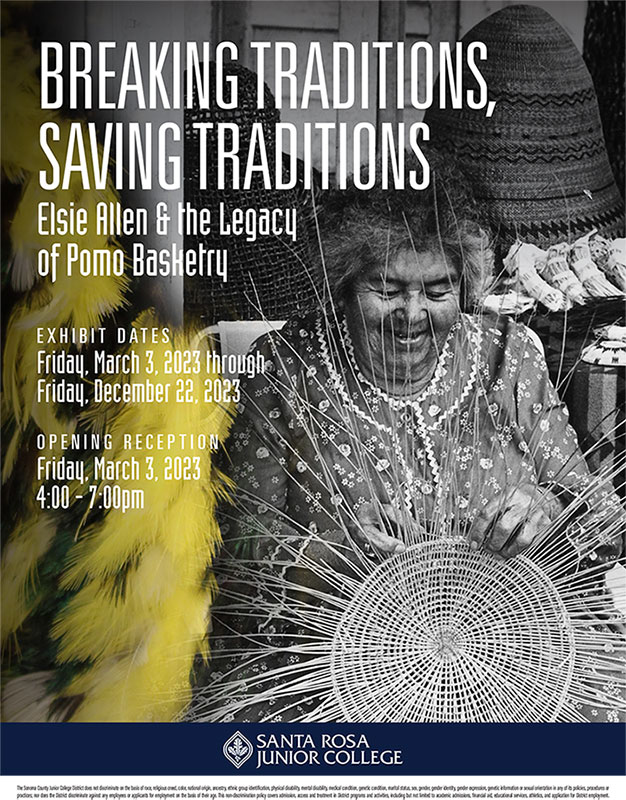 Breaking Traditions, Saving Traditions:
Elsie Allen and the Legacy of Pomo Basketry 
Exhibit Dates: Friday, March 3rd, 2023 – Friday, December 22nd, 2023
Opening reception: Friday, March 3rd, 2023 4:00 – 7:00 pm   
The SRJC Multicultural Museum will bring to light a unique and rare collection, never exhibited in its entirety.
The Elsie Allen Pomo Basket Collection consists of over 130 masterfully woven baskets, ranging from the size of a pencil eraser to nearly 40 inches across, and spanning in date from the late 1800s to the 1980s.
This is the only known collection of its size to have been created entirely by Native American weavers, and it is truly unique in that there is so much ethnographic information on nearly every basket in the collection. 
This remarkable collection of baskets and accompanying material will have resided at Santa Rosa Junior College for 20 years in 2023, yet it has never been exhibited in its entirety since arriving here.  For the collection's 20th Anniversary at Santa Rosa Junior College, all the baskets will be on display, filling the museum, along with photographs, previously unseen videos, and stories of the weavers themselves.
The SRJC community will also be treated to guest speakers and numerous opportunities to learn more about the cultural importance of this collection, born of the determination of Elsie Allen and her mother, Annie Burke to keep the legacy of Pomo Basketry alive. 
The opening reception will feature speakers from the local Pomo community:
Elsie Allen's granddaughter, Linda Aguilar
Elsie Allen's niece Susan Billy, who learned basket weaving from Elsie Allen and had a special relationship with her.
Silver Galleto, founder of the Pomo Weaver's Society.   Galleto is guest curating this event with Museum Supervisor/Curator Rachel Minor. 
A Pomo blessing and song will precede the event. 
Exhibit funded by the SRJC Foundation
Also Happening In the SRJC Multicultural Museum: Two Screenings of the 1994 film
Pomo Basketweavers: A Tribute to Three Elders  
Tuesday, March 7th  1:00 – 2:00 pm and Wednesday, March 15th, 3:00 pm – 4:00 pm
This remarkable documentary provides an in-depth introduction to the history, culture, and basketweaving traditions of Pomo women. The film shows in detail all aspects of Pomo basketweaving, including the cultivation, gathering, and curing of the necessary native plants; the preparation of the basketry materials; and the patient, painstaking work of weaving a basket. It also chronicles the changes in Pomo basketry after first contact with non-Indians and includes biographical portraits of three renowned Pomo basketweavers: Laura Somersal, Elsie Allen, and Mabel McKay. "Pomo Basketweavers" is essential viewing in a variety of courses in Native American studies, cultural anthropology, and ethnic arts and crafts. It was produced by David Ludwig.
Each film screening will be preceded by a short talk from Beverly Ortiz, who provided much of the research on this film. 
---
Panel discussion with members of Pomo Weavers Society
Friday, March 10th  3:00 – 4:00 pm
Members of The Pomo Weaver's Society, a local group of Pomo basketweavers, will be on hand to talk about basket weaving and answer questions from the audience about weaving techniques, materials, and culture.  Moderated by Silver Galleto, basket weaver and founder of the Pomo Weaver's Society, which has 30-40 active members today.
---
Basket weaving demonstration –Clint McKay
Wednesday, Mar 29th 1:00 – 2:00
Clint McKay is a member of Dry Creek Rancheria and is an accomplished basket weaver. He is descended from several of the weavers in the Elsie Allen collection, including Mabel McKay and Laura Somersal.